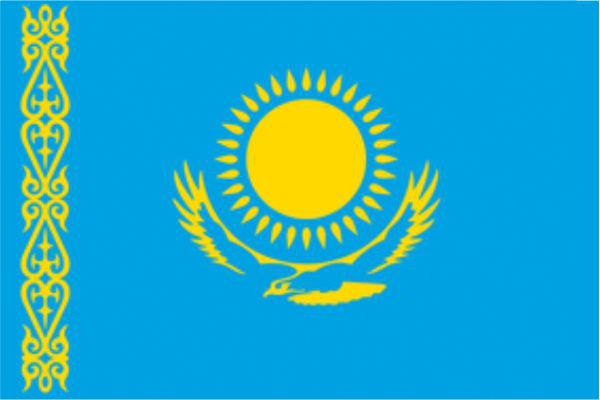 Kazakhstan
This transcontinental state is located on the border of Europe and Asia; most of which is in Asia, and the smaller, only the extreme west - in Europe. By the territory, Kazakhstan is the ninth largest in the world. The Republic has a great length of land borders with neighboring states, the length of over 15,000 km. In the north-west, north and east it borders with Russia, to the east and south-east - with China, in the south - with Kyrgyzstan, Turkmenistan and Uzbekistan.
The country stretches from west to east for 3,000 km from the Caspian lowlands in the west to the Altai Mountains and Jungar Alatau in the east, from north to south for 2,000 km from the West Siberian Plain in the north to the Kyzylkum desert and the mountains of Tien Shan in the South.
At first glance, Kazakhstan appears to be a country with endless steppes and deserts with oases in the form of cities. However, in fact the nature of Kazakhstan is extremely rich and varied, covering many geographic sites and keeps a memory of different cultures from ancient times.
Great Silk Road passed through the Kazakh steppes, and such ancient cities as Taraz, Otrar, Ispidzhab, Iasi, Almaty were the main hubs through which missionaries and traders cruised, and there was a steady cultural exchange.
Today Kazakhstan is a multinational state, which is inhabited by more than 100 nations and nationalities, each nation brings a piece of his soul in a common culture. The Constitution guarantees the full development of all nations and nationalities.
Residents of Kazakhstan, as in ancient times, are happy to share their famous hospitality and show guests the skating rink Medeo, Chimbulak ski resort, ancient petroglyphs of Tamgaly Tas, Singing Dunes of the National Park "Altyn Emel," Charyn canyons, lakes and pine forests of Kokshetau, Borovoe resort, virgin areas of East Kazakhstan (Altai), medieval mausoleum of Ahmed Yasawi in Turkestan, cosmodrome "Baikonur" and more.
Capital: Astana
Largest cities: Almaty, Astana, Shymkent, Karaganda, Aktobe
Official language: Kazakh, Russian
Area: 2,717,300 sq km
Population: 17,417,447 people (in February 2015).
Currency: Tenge
Religion: Kazakhstan - is a secular state in which the different religions coexist peacefully (mainly Muslims).
Visa: to enter the territory of the Republic of Kazakhstan, foreign citizens (except for citizens of CIS countries) shall have a visa issued on the basis of invitations to consular offices of Kazakhstan abroad.
* Also in the period from 15 July 2014 to 15 July 2015 the citizens of some countries are exempt from the need for issuing visas for the period of stay of up to 15 calendar days from the moment of crossing the state border (in accordance with the decision of the Government of the RK), namely the citizens of the US, UK, Germany, France Italy, Malaysia, Netherlands, UAE, Korea, Japan and others.
Public and national holidays in Kazakhstan:
| | |
| --- | --- |
| January 1-2 | New Year |
| March 8 | International Women's Day |
| March 21-23 | Nauryz |
| May 1 | Feast of Unity of People of Kazakhstan |
| May 7 | Defender Of The Fatherland Day |
| May 9 | Victory Day |
| July 6 | Day of the Capital |
| August 30 | Constitution Day |
| December 1 | Day of the First President |
| December 16-17 | Independence Day of Kazakhstan |